Description
Evidence shows that education is the most strategically important area in which
we can invest, where funds raised can travel the furthest and leave an impact in
present and future generations.
Our campaign donations will be 100% designated to the women and children of
the Whakhan, paying for teachers, training and learning.
To help you better understand the area and the people "Peaceful Afghanistan", a book of our recent expedition there, will be sent to you with your donation of
US$75 dollars.
In this venture BBS is working with the Badakhshan UN Mission and Canadian
Women for Women in Afghanistan, a charity founded on the belief that…
"Education is a basic, universal human right. The people of Afghanistan have
demonstrated an intense demand for education, for both girls and boys, since
this right once again fell within their grasp following the end of the Taliban
regime in late 2001. We are pleased to respond to this demand with a focus on
access to quality education. We also recognize the link between quality
education and peace building, and believe that a literate population with access to viable education and economic opportunities will be Afghanistan's greatest stabilizing force and its best hope for a lasting peace."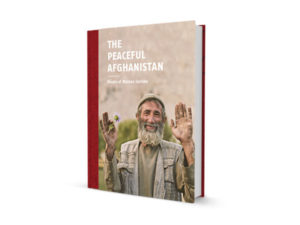 An Excerpt from the Peaceful Afghanistan:
Carved out by long-winding glaciers at the end of the last ice age, the narrow 200-mile stretch known as the Wakhan Corridor is a daunting but breath-taking landscape. Located in Badakhshan – a north-eastern province of Afghanistan comprised of 45,000 square kilometres, 28 districts, and a total population of 1,200,000 people – Wakhan is home to a mere 13,400 inhabitants and a handful of rare wildlife.

Much of its territory towers high above 14,000 feet, and its 340+/- days below freezing make for a challenging environment to all who reside therein. With wheat, barley and maize being the only crops able to survive this formidable climate, those who do not till the land mainly occupy themselves with rug weaving or as shepherds of goats, cows, yaks and horses. The skins and dairy of these livestock are traded with neighbouring communities for basic essentials such as oil, butter, tea, sugar and flour.

Trade is a long-time way of life in Wakhan, with its valleys having once acted as the pinnacle link between Orient and Occident for Silk Road traders, armies, missionaries and the legends of Marco Polo. As history witnessed international trade move slowly from land to sea, the Silk Road faded into memory and the Russian and British Empires eventually vied for control of the region.

During this "Great Game", Wakhan as we know it today was defined through a series of treaties, and, in 1895, was formally established as a buffer zone between these two powers. As time would tell, however, the communists – both Russian and Chinese – finally laid seize to the Afghani corridor in the first half of the 21st Century, closing its easterly borders and shaping the largely inaccessible cul-de-sac that now exists.

Sharing its modern-day borders with Tajikistan, China and Pakistan, the Corridor's residents primarily speak their own Pamiri language – a derivative of the local Dari spoken in surrounding territories. The region is also home to Kyrgyz-speaking Kyrgyz nomads who live in harmony with native Wakhis, together maintaining an ancient and peaceful way of life.

Nestled between the "Small" and "Big" Pamir Mountains and the Karakorum Mountain ranges, local Kyrgyz inhabitants call their Wakhan homeland Bam-e Dunya, which means "roof of the world." Lying high above the many conflicts experienced by its neighbouring regions below, the Wakhan Corridor does indeed stand as a peaceful "roof" of Central Asia.

A unique blend of cultural, ethnic, and linguistic traditions exist here, and – when combined with its isolated location – serve to create a pocket sealed off from the currents of history. Within these confines, the migration of conflict that oft comes with ethnic diversity and conflicting cultures – as so starkly witnessed by the rest of the region – remains limited.

Though a source of its harmony, this isolation also brings with it strife. Limited access to education, healthcare, fresh produce and cross-border trade means that more than one half of the population will die before the age of five. Most families within Wakhan will lose anywhere from three to eleven children in their lifetimes. Although money exists, trade operates as the major currency, and survival hinges on the success of every negotiation.

Though faced with these incomprehensible hardships, the people of Wakhan seek no alternative homelands. Neighbouring regions exist in perpetual conflict within the throws of war, and the Taliban struggle for control in communities not far off. When offered the choice between these systems of unrest or the hardships endured within their long-held isolation, its inhabitants choose the latter.