Support an Eco Farm for Special Needs Kids in Thailand
100% of donations made through BBS go to those in need.
Thai Child Development Foundation (TCDF) is a Thai/Dutch organisation that supports underprivileged, special needs children in the mountains of Paksong, Thailand. 52 special needs children currently attend the TCDF school where they participate in educational, physical, daily life skills, emotional, and occupational development. Without this program, most students would otherwise be ostracised and/or left home alone where they risk injury, abuse, and an inability to become valued and active participants within their communities.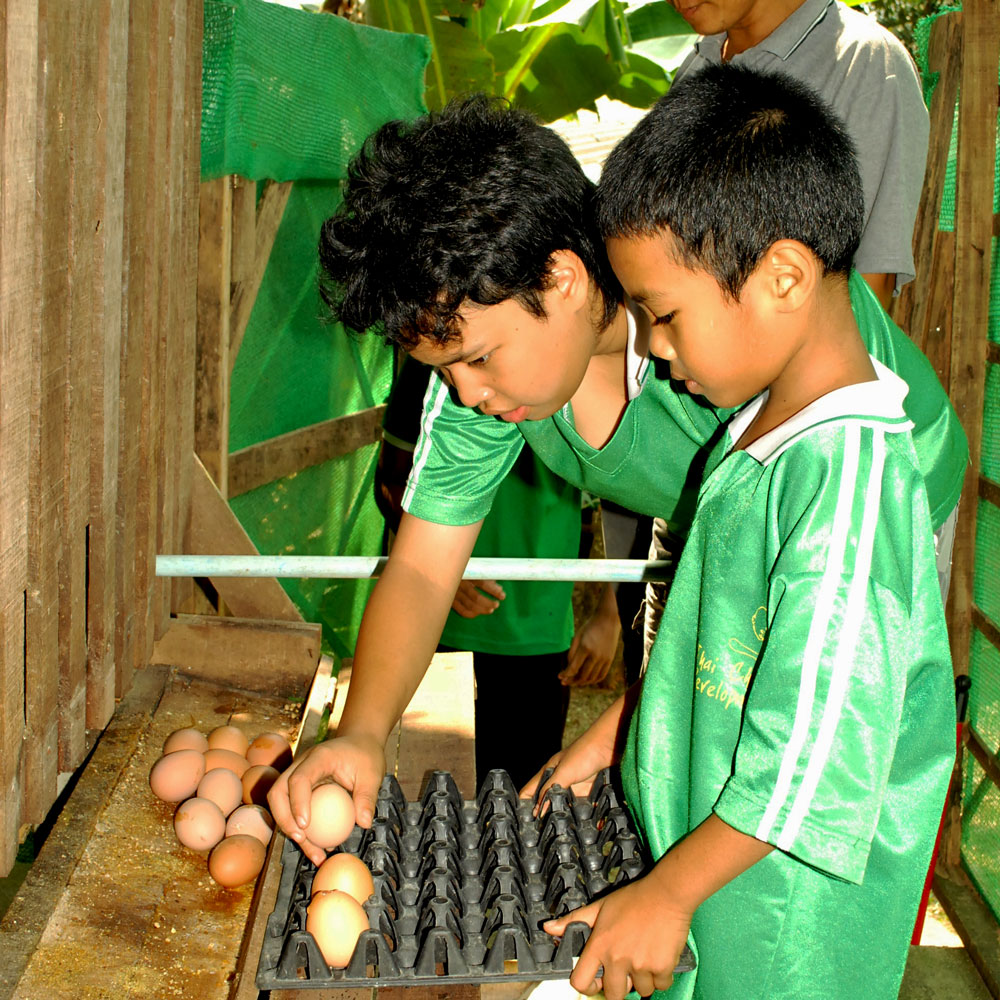 Please note: the video above is hosted on Youtube and may require a VPN to access in some countries. 
 The centre also operates with many eco-resources such as fishponds, organic gardens and cooking gas produced from bio waste. Each of these initiatives is woven into the fabric of learning at TCDF and provides opportunities for students to be active, have fun, build life skills, and equip them with a sense of purpose.
TCDF is currently working to become a self-sustaining NGO by 2022, and BBS has committed to partnering with them on this exciting journey. TCDF's first initiative to help them become self-funded was to build Eco-Logic Retreat – an organic yoga retreat centre whose tourism revenues go towards the operational costs of the school. Eco-Logic has already greatly allowed TCDF to cut back on its reliance on foreign donations, making this first initiative a resounding success.
The next and final step in TCDF's sustainability plan is to increase and standardise production of organic foods grown on their land. Current crops raised are sufficient to feed all school students, however, a scaling up of production would allow TCDF to also sell their produce to local communities and create a new source of revenue able to cover the school's remaining operating costs.
BBS is proud to support TCDF's goals of self-sustainability and commits to ensuring all donations made through our platform will go towards TCDF's outstanding agricultural endeavours. Thank you for any donations you can give to make this project a great success!
100% of donations made through BBS go to those in need.
Donate To Thai Child Development Foundation
Support an Eco Farm for Special Needs Kids in Thailand
BBS is a Hong Kong registered charity. If required, please refer to tax regulations in your own home country to determine whether your generous donation to this cause will be tax deductible.