In the realm of pressing social issues, one that often goes unnoticed is period poverty. This silent epidemic has far-reaching consequences, particularly impacting teenage girls. It's a problem that transcends borders and socioeconomic divides, affecting education, health, and mental well-being. In this installment of Field Notes, we shed light on the profound implications of period poverty and celebrate recent projects undertaken by Business for Better Society (BBS) to combat this issue.
The Far-Reaching Impact of Period Poverty
Period poverty is more than just a lack of access to menstrual products; it's a multi-faceted challenge that disproportionately affects girls in both developing and developed nations. For many, the inability to afford sanitary items forces difficult choices between period products and essentials like food. In some cases, girls may resort to using unhygienic alternatives, risking infections and health complications.
In regions where female genital mutilation is practiced or clean water is scarce, managing periods hygienically becomes an even more daunting task. Beyond the physical toll, period poverty takes an emotional toll as well. Girls who cannot access proper menstrual products often face social isolation, shame, and the stigma of discussing their experiences.
The Power of Empowerment: Recent BBS Projects
Against this backdrop of adversity, Business for Better Society has taken commendable steps to address period poverty. Two notable projects stand out, each making a tangible difference in the lives of girls facing this challenge.
In the Democratic Republic of the Congo, Remember Youth for Change (RYC) recognized the pressing need for sanitary pads in refugee camps. With support from the BBS community, RYC's sewing program created reusable hygiene pads. Over 4,000 pads were meticulously crafted, forming part of hygiene kits distributed to 1,000 girls and women in the refugee camps outside the city of Goma. These kits included not only pads but also essential cleaning products and educational resources on menstrual health.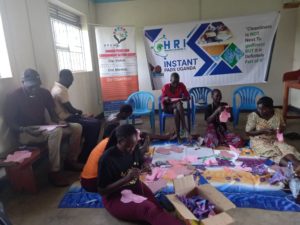 Meanwhile, in northern Uganda, the team at SPEAK Uganda participated in a unique two-day workshop with Hindura Recycling Initiative. The aim was to equip the SPEAK team with skills to conduct workshops, guiding girls and women in the Adjumani settlements to create personal reusable pads. The train-the-trainer approach ensures sustainable change and empowers women to take control of their menstrual health. This program was made possible through a BBS grant.
A Special Ask for Support
As a charity dedicated to fostering positive change, Business for Better Society continually seeks support to enhance its impact. The projects highlighted here reflect just a fraction of the work being done to tackle period poverty and other pressing issues. Your contribution can make a difference by supporting ongoing operations, grants, and projects like the ones showcased. Together, we can be agents of change and make strides towards a more equitable and empowered world for all.
Join Us in Making a Difference
Period poverty is a stark reminder of the inequality that persists in our world. Through our collective efforts and support, we can create meaningful change that breaks down barriers and empowers girls to reach their full potential. Join us in the fight against period poverty and together, we can build a brighter future for girls everywhere.
Click here to donate to Business for Better Society and support our mission.